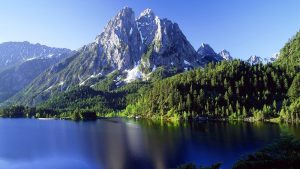 Mountains!  We are moved by mountains.  We even sing songs about mountain grandeur.  I have always enjoyed visiting the mountains, especially in the summer when it is a perfect escape from the heat of the coastal plain.  I won't ever forget my first time seeing the mountains as I peered out the back window of my parents 1968 Mercury Cougar with wide-eyed wonder.  I am also very thankful to Sunrisers who made possible my last trip with my mother which was to the Mountains of Sparta and Boone, NC.  Mountains often make us think about God, either because we are up high and presumably closer to heaven or because they're just so big and remind us of how small we are.  This week we are looking at Matthew 17:1-9 where Jesus takes a few of his closest disciples up a mountain.  For them, it was a holy experience where they see a side of Jesus they had never seen before.  In every way, it was a "mountain top" experience, both figuratively and literally!  Would you like a mountain top experience?  Be sure to worship this weekend and we'll explore together how we might have all the benefits of a mountain top experience without even leaving Holly Springs!  I encourage you also to bring someone with you…Our Father loves it when the house is full!
As our times of worship draw near, please consider some or all of the following opportunities as invitations from God for you to be more involved in God's work through Sunrise Church:
Give the Gift of Life: Rex Blood Drive at Sunrise Church Monday February 27 from 3-7 PM:  Did you know that every pint of blood can potentially save up to 3 lives?  Jesus is proud of us when we give of ourselves to save others.  Let's be heroes.  Let's be like Jesus!  Let's give a pint of blood this Monday!  If you have never given blood, I encourage you to give me a call or send me an email (tnewman@mysunrise.org).  I have given more than 2.5 gallons of blood since I have been at Sunrise Church!  It is no big deal and it literally could mean the difference between life and death for someone in need.  Walk ins are welcome.  To sign up visit mysignup.com/sunriseblooddrive.
We want to hear from you! On Saturday February 12th about 20 Sunrise leaders gathered for a visioning session that was very productive.  We have devised a brief survey and would cherish your input.  Please click on this link before March 1 and let us know what you think!  mysunrise.org/survey.
Special Ash Wednesday Service: March 1 @ 7 PM.  Join other Sunrisers as we gather to begin the season of Lent in preparation for a joyful Easter.  This service will highlight our need for repentance and God's gift of forgiveness.  All are welcome and invited!
Shrove Tuesday Pancake Dinner to benefit the Haiti Mission Trip! We will be having our own celebration of Shrove Tuesday on February 28th from 5 – 6:30pm.  Come anytime and enjoy dinner as well as some pancake races and games for the kids.  There's no set cost to attend and all donations will help our second international mission trip happen this summer!  Just after 6pm, we'll talk about how Shrove Tuesday connects into Lent as we prepare for Ash Wednesday.  You can help by donating pancake mix or syrup and/or coming to eat and making a donation!
Sunrise is going back to Haiti! Our Haiti Missions team is planning a return trip July 8-14.  They will be sharing the light of Christ and the love of Sunrise with the people of Haiti through activities such as leading VBS, participating in neighborhood ministry, sponsoring local construction and visiting a local orphanage.  There is still time and space to join the team.  Please contact Jay Rabon at 919-538-2585 or rabonj@nationwide.com to receive more information.
Habitat for Humanity – a new Sunrise Partnership! Sunrise is partnering with other area churches to build a house with Habitat for Humanity right here in Holly Springs.  Please go to mysunrise.org/h4h for updates or to sign up to help.
Wee Praise is our choir for 4 years to 2nd grade and its practice time has moved to the sanctuary from 9:45-10:00am. Join Amanda, Cameryn and Sarah, sing catchy songs and learn about God!  For more information see Laura Rabon (JLRabon3@aol.com).
Helpers Wanted! Children's Church:  We need a few more monthly teachers for Children's Church and even some people willing to be a substitute when regular teachers are travelling or sick.  We provide the materials and you provide the love and energy– spending the sermon time with our kids age 4-2nd grade as they explore Christ together in age-appropriate ways. Our need is greatest for 11am worship.  Youth ministry needs you!  Help to serve a meal for the youth and adult volunteers on a Sunday evening!  Expenses can be covered for you if needed, but the donation of time and preparation is irreplaceable!  Sign up on the church website or with Pastor Jen. (jswindell@mysunrise.org).
Eating the Bible: Participate in an innovative Bible study that incorporates Scripture, discussion and cooking!  The lessons focus on the Books of Exodus and Leviticus.  Groups will meet on the 4th Thursday of each month (January to October) from 7:00-8:30pm.  Sign up for 1…2…or even all sessions using SignUpGenius (org/ETB)
Help feed the hungry in Holly Springs! The Sunrise Preschool is inviting us to join them in special collections each week for the Holly Springs Food Cupboard.  Our requested donations this week are toothpaste and toilet paper.  Just leave items in the collection buggy in the lobby the next time you're at Sunrise Church.  For more information visit:  http://www.hsfoodcupboard.org/.
We're Called to Connect– How can YOU connect with someone this week?  Inviting them to worship is a great way to connect!  I look forward to connecting with you this weekend!
Peace & Partnership,
Tom Newman, pastor