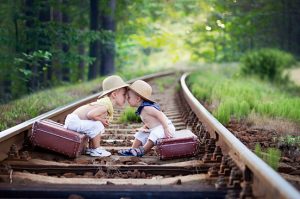 How far have you gone for love?  Bought flowers and chocolates?  Wrote a letter even when writing isn't your "thing?"  Bought an expensive gift or sacrificed something you really wanted so that your special someone could have what they wanted instead?  True love requires something of us.  It is impossible to love someone and refuse to help them or allow them to be in need.  Love is willing to go the extra mile for the beloved and this reality leads us to the season of Lent.  Lent (begins Ash Wednesday and runs until Easter Sunday) is a season of examining our love for God and God's love for us.  God's love is best demonstrated to us in the person of Jesus who left the riches of heaven for the poverty of a stable and the cruelty of a cross.  God's love is so strong that God came to bear the brunt of our sins in order to rescue us from the consequences of our actions.  We didn't earn God's love.  We can't be worthy of God's love.  God offers us love in grace and mercy as a gift that we may receive.  Will you receive God's love, grace and mercy?  How will God's love influence your choices, now and in the future?  Be sure to worship this weekend where we'll explore God's love and what our best response might be.  Please invite friends, neighbors and others about whom you care…this news is too good not to share!
As our times of worship draw near, please consider the following opportunities as invitations from God to you:
Please join me in prayer for Sunriser Mark Swindell who will be having serious surgery to his leg and ankle on Friday March 3. Mark expects to stay in the hospital for a few days.  Please pray for the family of Sunriser Janet Hoffman who "out ran us to the Father's House" late last week.  Arrangements are pending.
We need you to "like" us! This may be the EASIEST job at Sunrise!  Be a part of our social media evangelism:  Every time you see a Sunrise post, like, share, or comment on it!  Each time you do you help others see what's happening at Sunrise.  Even better, check in on Facebook when you're here and tell friends why you love Sunrise. Every review, like, and share helps Sunrise to be shown to more and more people (https://www.facebook.com/SunriseUMC/)!
Together we can build something big! – Please join us for a Church lunch immediately following the 11am service on March 12! Sub sandwiches will be provided by the Nurture Committee.  We are just asking for a small donation to support Habitat for Humanity. The offering will be used to cover costs of materials and supplies for the house we are building in Holly Springs!
Habitat for Humanity – a new Sunrise Partnership! Sunrise is partnering with other area churches to build a house with Habitat for Humanity right here in Holly Springs.  Please go to mysunrise.org/h4h for updates or to sign up to help.   Volunteers are particularly needed for the workday on Saturday March 18.
Calling all parents! Sunrise Preschool is hosting a Parent Education Workshop by Project Enlightenment with John Panepinto on March 24th from 10:00 – 11:00 a.m. "I've Tried Everything…Now Try 5 Keys to Positive Discipline"  Without these keys to discipline, parents feel off track or as if nothing works!  Restore your confidence in your parenting as you learn: 1) why children do not respond to certain parenting practices and 2) what discipline really works, why it works, and steps to make it work.  This workshop is free to parents of young children.  You must register to attend as space is limited.  To register, contact Preschool Director, Kim Sain at ksain@mysunrise.org.
Easter Celebration & Egg Hunt volunteers and donations needed! The Easter Celebration & Egg Hunt will take place April 8 from 10-11:30am. We are looking for volunteers to work at the different stations as well as donations to help make this event successful. If you can help out, please see the sign-up sheets for volunteers and donations in the lobby. Donations will be due by March 26th and can be placed in Pastor Jen's office. Contact Pastor Jen (jswindell@mysunrise.org), Mary Moss (mksmoss@gmail.com) or Tracey Bailey (traceyb409@gmail.com) for more information.
ASP Silent Auction and Dinner — We need your help to collect items for our silent auction to benefit ASP! If you have items or a connection with a local business, please let Pastor Jen (jswindell@mysunrise.org) know so that we can grow our list!  Save the date for April 9th!
Helpers Wanted! Children's Church:  We need a few more monthly teachers for Children's Church and even some people willing to be a substitute when regular teachers are travelling or sick.  We provide the materials and you provide the love and energy– spending the sermon time with our kids age 4-2nd grade as they explore Christ together in age-appropriate ways. Our need is greatest for 11am worship.  Youth ministry needs you!  Help to serve a meal for the youth and adult volunteers on a Sunday evening!  Expenses can be covered for you if needed, but the donation of time and preparation is irreplaceable!  Sign up on the church website or with Pastor Jen. (jswindell@mysunrise.org).
Eating the Bible: Participate in an innovative Bible study that incorporates Scripture, discussion and cooking!  The lessons focus on the Books of Exodus and Leviticus.  Groups will meet on the 4th Thursday of each month (January to October) from 7:00-8:30pm.  Sign up for 1…2…or even all sessions using SignUpGenius (org/ETB)
Help feed the hungry in Holly Springs! The Sunrise Preschool is inviting us to join them in special collections each week for the Holly Springs Food Cupboard.  Our requested donations this week are for all types of jelly and jam.  Just leave items in the collection buggy in the lobby the next time you're at Sunrise Church.  For more information visit:  http://www.hsfoodcupboard.org/.
We're Called to Connect– How can YOU connect with someone this week?  Inviting them to worship is a great way to connect!  I look forward to connecting with you this weekend!
Peace & Partnership,
Tom Newman, pastor