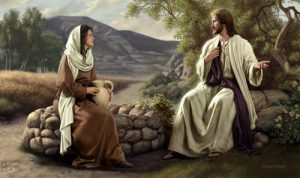 I wish I could be there!  Really!  I am away this weekend but we are expecting a totally awesome and inspiring message at each of our services offered by our Church Council Chairperson, Jay Rabon.  Jay writes:  "It was the longest recorded conversation Jesus had with an individual and it happened with a woman from Samaria!  Our scripture this week comes from John Chapter 4 in which Jesus had a powerful encounter with a Samaritan woman at Jacob's well.  Why did Jesus 'have' to go through Samaria on His way from Judea to Galilee?  What cultural taboos did He smash in the process?  What did he know about the woman's personal life?  What did He reveal about Himself and how did the woman and people from her town respond?  Join us this weekend as we explore these questions and strengthen our personal witness for Christ."
As our times of worship draw near, please consider the following opportunities as invitations from God to you to be more involved in God's great work through Sunrise Church:
Please join me in prayer for Sunriser Ann Morris upon the passing of her father, Gary Greenwald. Arrangements are pending.  Please pray for the family of Sunriser Janet Hoffman.  A memorial service will be at Sunrise Church on Saturday March 18 @ 10 AM.  For more information see:   http://www.legacy.com/obituaries/newsobserver/obituary.aspx?n=janet-hoffmann&pid=184324003.
We need you to "like" us! This may be the EASIEST job at Sunrise!  Be a part of our social media evangelism:  Every time you see a Sunrise post, like, share, or comment on it!  Each time you do you help others see what's happening at Sunrise.  Even better, check in on Facebook when you're here and tell friends why you love Sunrise. Every review, like, and share helps Sunrise to be shown to more and more people (https://www.facebook.com/SunriseUMC/)!
Join us for our next Church Dinner: Sunday March 19 @ 5 PM.  Bring a dish to share and enjoy the fun!  The youth group will join us for dinner but depart for their program.  All others are invited to linger around the tables and enjoy each other's company.  Why not look for someone you don't know well and sit with them as an opportunity to get to know another Sunriser!
Calling all parents! Sunrise Preschool is hosting a Parent Education Workshop by Project Enlightenment with John Panepinto on March 24th from 10:00 – 11:00 a.m. "I've Tried Everything…Now Try 5 Keys to Positive Discipline"  Without these keys to discipline, parents feel off track or as if nothing works!  Restore your confidence in your parenting as you learn: 1) why children do not respond to certain parenting practices and 2) what discipline really works, why it works, and steps to make it work.  This workshop is free to parents of young children.  You must register to attend as space is limited.  To register, contact Preschool Director, Kim Sain at ksain@mysunrise.org.
Join Fellow Sunrisers for a night of Fun! March 25th from 6:30 – 8:30 PM we're hosting a game night.  There will be pizza and plenty of games ranging from cards (non-gambling games) to "minute to win it" games and board games.  This is one night you won't want to miss!  For more information please see John Bailey (johnbailey3@hotmail.com).
Mom's Night Out – Whether you are a new mom or a seasoned mother with older kids, we hope that you will join us for dinner on March 30, 7pm at Chef's Palette. Enjoy fellowship with other moms and enjoy a night out for yourself!  For questions, please see Pastor Jen or Tracey Bailey (traceyb409@gmail.com).
Easter Celebration & Egg Hunt volunteers and donations needed! The Easter Celebration & Egg Hunt will take place April 8 from 10-11:30am. We are looking for volunteers to work at the different stations as well as donations to help make this event successful. If you can help out, please see the sign-up sheets for volunteers and donations in the lobby. Donations will be due by March 26th and can be placed in Pastor Jen's office. Contact Pastor Jen (jswindell@mysunrise.org), Mary Moss (mksmoss@gmail.com) or Tracey Bailey (traceyb409@gmail.com) for more information.
Get the "Big Picture" of the New Testament: a new Bible Study beginning Wednesday March 22 at 7 PM (at Sunrise).  This new study is perfect for the "beginner" in faith as well as the long time member.  For more information see Ann Lawton (alwaton@mysunrise.org).
ASP Silent Auction and Dinner — We need your help to collect items for our silent auction to benefit ASP! If you have items or a connection with a local business, please let Pastor Jen (jswindell@mysunrise.org) know so that we can grow our list!  Save the date for April 9th!
Help feed the hungry in Holly Springs! The Sunrise Preschool is inviting us to join them in special collections each week for the Holly Springs Food Cupboard.  Our requested donations this week are for Dried pasta (not Mac & Cheese), rice-a-roni, boxed potatoes and stuffing.  Just leave items in the collection buggy in the lobby the next time you're at Sunrise Church.  For more information visit:  http://www.hsfoodcupboard.org/.
With whom will you share this message?  Evangelism can be as simple as a forwarded email and an invitation to worship together this weekend!
Peace & Partnership,
Tom Newman, pastor