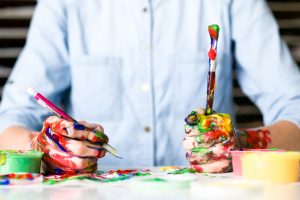 There it was…on the wall.  It wasn't there before.  It shouldn't be there now.  Yet, here it is, a mark on the wall and no one knows how it got there.  Someone had to do it.  Marks don't just make themselves.  We leave them, by accident and by intention.  Our marks can be ugly gashes that spoil the wall, paint or surface on which we leave them.  Our marks can also be things of beauty that transform a canvas into a work of art.  What kind of mark are you leaving?  This week we will look at Ephesians 5:8-14 where we encounter Paul's advice to the church at Ephesus.  Like us, they were leaving a mark…just not a good one.  Paul knew they could do better and gave them practical advice for making a better mark on the world in which they lived.  Much of what Paul shared is just as relevant to us in our world.  Concerned about the mark you're leaving?  Be sure to worship this weekend!
As our times of worship draw near, please consider the following opportunities at Sunrise Church as invitations from God to you:
Please join me in prayer for Rev. Vic Hill (former Sunriser and current pastor of Paige Memorial and Biscoe United Methodist Churches) who is having a heart catheterization today. Pray also for Sunriser Steve Allen who is recovering from successful surgery this week and for Evan Hostetler (niece of Sunrisers Gary and Lori Hostetler) who is battling ovarian cancer.  Continue to lift up Sunriser Melanie Penny who is undergoing cancer treatmens, Jean Wall (aunt of Sunriser Sally Puckett) who has just entered Hospice care and Caroline Barker (mother of Sunriser Mike Barker) who is struggling with declining health.
We need you to "like" us! This may be the EASIEST job at Sunrise!  Be a part of our social media evangelism:  Every time you see a Sunrise post, like, share, or comment on it!  Each time you do you help others see what's happening at Sunrise.  Even better, check in on Facebook when you're here and tell friends why you love Sunrise. Every review, like, and share helps Sunrise to be shown to more and more people (https://www.facebook.com/SunriseUMC/)!
Join Fellow Sunrisers for a night of Fun! March 25th from 6:30 – 8:30 PM we're hosting a game night.  There will be pizza and plenty of games ranging from cards (non-gambling games) to "minute to win it" games and board games.  This is one night you won't want to miss!  For more information please see John Bailey (johnbailey3@hotmail.com).
This weekend we will receive a special offering for One Great Hour of Sharing. This offering empowers the United Methodist Committee on Relief (UMCOR) to bring hope and aid to disaster areas around the world when a catastrophe strikes.  For more information visit:  http://www.umcor.org/UMCOR/Programs/One-Great-Hour-of-Sharing
Mom's Night Out – Whether you are a new mom or a seasoned mother with older kids, we hope that you will join us for dinner on March 30, 7pm at Chef's Palette. Enjoy fellowship with other moms and enjoy a night out for yourself!  For questions, please see Pastor Jen or Tracey Bailey (traceyb409@gmail.com).
With Love from Jesus is an outreach ministry that distributes food and other items to qualified recipients in southern Wake County. We offer a team each first Friday of the month that serves for about 4 hours.  Our next service opportunity will be Friday, April 7th.  For more information, or to volunteer, contact Bob Holm at holm104@att.net (please note Bob's new address!).
Easter Celebration & Egg Hunt volunteers and donations needed! The Easter Celebration & Egg Hunt will take place April 8 from 10-11:30am. We are looking for volunteers to work at the different stations as well as donations to help make this event successful. If you can help out, please see the sign-up sheets for volunteers and donations in the lobby. Donations will be due by March 26th and can be placed in Pastor Jen's office. Contact Pastor Jen (jswindell@mysunrise.org), Mary Moss (mksmoss@gmail.com) or Tracey Bailey (traceyb409@gmail.com) for more information.
ASP Silent Auction and Dinner on April 9! We need your help to collect items for our silent auction to benefit ASP! If you have items or a connection with a local business, please let Pastor Jen (jswindell@mysunrise.org) know so that we can grow our list!
Help feed the hungry in Holly Springs! The Sunrise Preschool is inviting us to join them in special collections each week for the Holly Springs Food Cupboard.  Our requested donations this week are for Shelf Stable Milk in small cartons.  Just leave items in the collection buggy in the lobby the next time you're at Sunrise Church.  For more information visit:  http://www.hsfoodcupboard.org/.
Join us for Holy Week! We have prayerfully designed worship experiences for the important milestones for Easter week.  Join us for one or all of the following events:  Maundy Thursday (April 13) Upper Room Drama at 7 PM where actors from Sunrise Men's Ministry will act out the events that unfolded the night before Jesus was crucified.  Good Friday (April 14) Reflection from 6:30-8:30 PM:  Join us for this contemplative time where Sunrisers are invited to come and go as their schedules and worship needs dictate.  This will be a powerful, quiet and meditative experience designed to bring you to the foot of Jesus' cross.  Holy Saturday (April 15) ReFuel and service of Tenebrae at 5:05 PM will lead worshippers in confession of sin and a closer relationship with our crucified Lord.  Easter Sunday (April 16) join us for an Easter Sunrise Service at Douglas Chapel AMEZ Church at 6:30 AM with the Holly Springs community as well as for our regular services at Sunrise Church at 8:30 and 11 AM where we'll celebrate the resurrection of Jesus!
With whom will you share this message?  Evangelism can be as simple as a forwarded email and an invitation to worship together this weekend!
Peace & Partnership,
Tom Newman, pastor