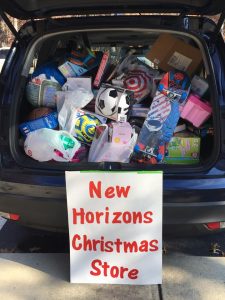 Supporting New Horizons Christmas Store
Did you know?  Sunrise partners with the New Horizons Fellowship in Apex in their Christmas Store initiative to help families in need in our area during the holidays.  The Christmas Store is scheduled to operate on December 8th & 9th this year and families are allowed to shop at no charge for 2-3 gifts for each child.  The eligibility to shop is a referral from Western Wake Crisis, Holly Springs Food Cupboard, and Dorcas Ministries, to name a few.  This is an excellent way to connect local families in need with local families seeking to share and bless others.  This meaningful outreach will appear as an
Angel Tree in our narthex by November 17th
.   It will contain 75 gift tags that are labeled by the gender and age for each child and the suggested price range for gifts is $10-$15.  The deadline to return items to Sunrise is December 3rd.  Also, if you are interested, The Christmas Store needs many volunteers to make this huge event happen.  It is an amazing and efficient process that serves around 1,200 children. Please refer to
this link on our website
 for more details and a volunteer sign-up that will appear in November.  You may also contact Rebecca Floyd at
abenbell@icloud.com
or Paige Mileski at
mileski1@mac.com
for more information.
At Christmas time, we remember the reason for the season! And Christ said that we should love our neighbors as ourselves. Since 2015, Sunrise has partnered with New Horizons Fellowship Church in Apex in this outreach opportunity to provide new toys to children in need. Parents/guardians are referred by groups (like the Holly Springs Food Cupboard) to come to this 2-day event in early December, and are given the opportunity to shop for 2-3 gifts for each child at no cost to them. Area churches and other organizations pick up gift tags, which categorize gifts by boy/girl and by age group. Sunrise UMC has typically accepted about 50 Christmas tree gift tags each year, but I'm happy to say our donations regularly exceed the number requested! You can look to pick up your gift tag in the Sunrise lobby in November!
Want to do more? New Horizons also needs volunteers to actually work in the store on shopping days in 2-3 hour shifts, doing such tasks as assisting shoppers in finding the right toy for their child or gift wrapping. New Horizons is extremely organized with this outreach effort…They even provide a brief orientation and training before your shift. Thank you to everyone who has previously supported this effort, and please know that it has been a great success!!
If you have questions or would like more information on how you can participate with this ministry, please contact Paige Mileski (mileski1@mac.com) or Rebecca Floyd (abenbell@icloud.com).
The New Horizons Fellowship website (http://www.nhf.cc/christmas-store/) also has a lot of information about the Christmas Store, including answers to Frequently Asked Questions!